Votre pays est-il supporté par PayPal ? Est-ce que votre compte PayPal peut envoyer, recevoir de l'argent ou effectuer des transferts PayPal ?
Dans cet article, vous aurez la liste complète des pays non restreints par le service de paiement électronique PayPal.
PayPal, leader incontesté en matière de paiement en ligne, permet aux acheteurs et aux vendeurs d'envoyer et de recevoir des paiements en ligne. Ce service de paiement est disponible dans plus 202 pays et dans 25 devises.
Certains comptes PayPal peuvent envoyer & recevoir des paiements sur PayPal, d'autres peuvent seulement envoyer et jusqu'à présent certains pays ne sont pas encore supportés par PayPal.
Liste des Pays Eligibles PayPal en 2022
Actuellement PayPal est disponible dans les 202 pays suivants :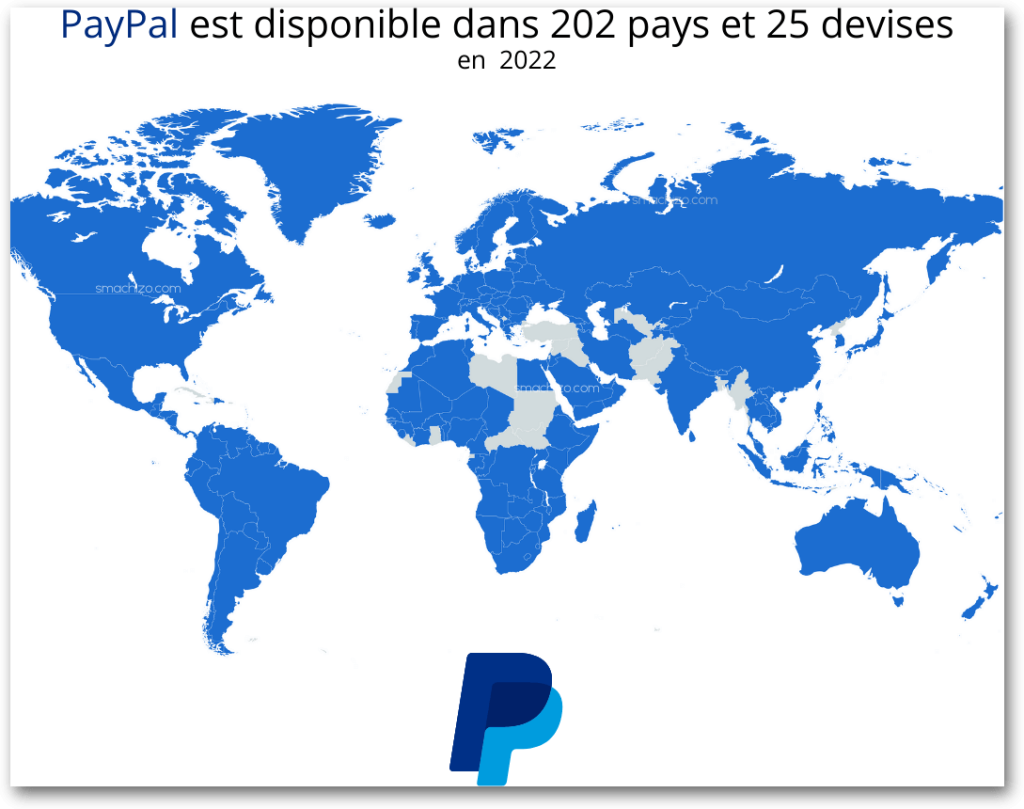 Afrique
Algeria
Angola
Benin
Botswana
Burkina Faso
Burundi
Cameroon
Cape Verde
Chad
Comoros
Cote d'Ivoire
Democratic Republic of the Congo
Djibouti
Egypt
Eritrea
Ethiopia
Gabon Republic
Gambia
Guinea
Guinea-Bissau
Kenya
Lesotho
Madagascar
Malawi
Mali

Mauritania
Mauritius
Mayotte
Morocco
Mozambique
Namibia
Niger
Nigeria
Republic of the Congo
Reunion
Rwanda
Saint Helena
Sao Tome and Principe
Senegal
Seychelles
Sierra Leone
Somalia
South Africa
Swaziland
Tanzania
Togo
Tunisia
Uganda
Zambia
Zimbabwe
Europe
Albania
Andorra
Austria
Azerbaijan Republic
Belarus
Belgium
Bosnia and Herzegovina
Bulgaria
Croatia
Cyprus
Czech Republic
Denmark
Estonia
Faroe Islands
Finland
France
Georgia
Germany
Gibraltar
Greece
Hungary
Iceland
Ireland
Italy
Latvia

Liechtenstein
Lithuania
Luxembourg
North Macedonia
Malta
Moldova
Monaco
Montenegro
Netherlands
Norway
Poland
Portugal
Romania
Russia
San Marino
Serbia
Slovakia
Slovenia
Spain
Svalbard and Jan Mayen
Sweden
Switzerland
Ukraine
United Kingdom
Vatican City
Amérique
Anguilla
Antigua and Barbuda
Argentina
Aruba
Bahamas
Barbados
Belize
Bermuda
Bolivia
Brazil
British Virgin Islands
Canada
Cayman Islands
Chile
Colombia
Costa Rica
Dominica
Dominican Republic
Ecuador
El Salvador
Falkland Islands
French Guiana
Greenland
Grenada

Guadeloupe
Guatemala
Guyana
Honduras
Jamaica
Martinique
Mexico
Montserrat
Netherlands Antilles
Nicaragua
Panama
Paraguay
Peru
Saint Kitts and Nevis
Saint Lucia
Saint Pierre and Miquelon
Saint Vincent and the Grenadines
Suriname
Trinidad and Tobago
Turks and Caicos
United States
Uruguay
Venezuela
Asie, Océanie & Moyen-Orient
Armenia
Australia
Bahrain
Bhutan
Brunei
Cambodia
Mainland China
Cook Islands
Fiji
French Polynesia
Hong Kong SAR, China
India
Indonesia
Israel
Japan
Jordan
Kazakhstan
Kiribati
Kuwait
Kyrgyzstan
Laos
Malaysia
Maldives
Marshall Islands
Federated States of Micronesia
Mongolia
Nauru
Nepal

New Caledonia
New Zealand
Niue
Norfolk Island
Oman
Palau
Papua New Guinea
Philippines
Pitcairn Islands
Qatar
Samoa
Saudi Arabia
Singapore
Solomon Islands
South Korea
Sri Lanka
Taiwan, China
Tajikistan
Thailand
Tonga
Turkmenistan
Tuvalu
United Arab Emirates
Vanuatu
Vietnam
Wallis and Futuna
Yemen
Pays Pouvant Envoyer et Recevoir des Paiements PayPal
Si vous avez un compte PayPal vérifié de l'un des pays ci-dessous alors vous pouvez envoyer des paiements PayPal, mais aussi recevoir des paiements PayPal.
Les pays africains dans cette liste seront suivis d'un astérisque (*)
Algeria (*)
Andorra
Argentina
Bahamas
Bahrain
Bermuda
Botswana (*)
Cayman Islands
Chile
China
Colombia
Costa Rica
Croatia
Dominican Republic
Ecuador
Egypt (*)
El Salvador
Faroe Islands
Georgia
Greenland
Guatemala
Honduras
Hong Kong SAR, China
Iceland
India
Indonesia
Israel
Jamaica
Japan
Jordan
Kazakhstan

Kenya (*)
Kuwait
Lesotho (*)
Malawi (*)
Malaysia
Mauritius
Mexico
Moldova
Monaco
Morocco (*)
Mozambique (*)
Oman
New Zealand
Nicaragua
Norway
Panama
Peru
Philippines
Qatar
Saudi Arabia
Senegal (*)
Serbia
Singapore
South Africa (*)
South Korea
Taiwan
Thailand
United Arab Emirates
Uruguay
Venezuela
Vietnam
Pays Pouvant Envoyer sans Recevoir des Paiements PayPal
Si vous habitez dans un des pays ci-dessous, alors vous pouvez créer un compte PayPal gratuit. Vous pouvez effectuer des paiements en ligne avec PayPal en reliant votre carte de crédit, mais vous ne pouvez pas recevoir des paiements :
Angola
Anguilla
Armenia
Aruba
Azerbaijan Republic
Belarus
Benin
Bhutan
Bolivia
British Virgin Islands
Brunei
Burkina Faso
Burundi
Cambodia
Cameroon
Cape Verde
Chad
Comoros
Congo, Democratic Republic of
Congo, Republic of
Cook Islands
Côte d'Ivoire
Djibouti
Eritrea
Ethiopia
Falkland Islands
Gabon Republic
Gambia

Guinea
Guinea-Bissau
Guyana
Kiribati
Kyrgyzstan
Laos
Macedonia
Madagascar
Maldives
Mali
Marshall Islands
Mauritania
Mayotte
Micronesia, Federated States of
Mongolia
Montenegro
Montserrat
Namibia
Nauru
Nepal
Netherlands Antilles
Niger
Nigeria
Niue
Norfolk Island
Papua New Guinea
Paraguay
Pitcairn Islands

Rwanda
Saint Helena
Saint Pierre and Miquelon
Saint Vincent and the Grenadines
Samoa
Sao Tome and Principe
Sierra Leone
Solomon Islands
Somalia
Sri Lanka
Suriname
Svalbard and Jan Mayen
Swaziland
Tajikistan
Tanzania
Togo
Tonga
Tunisia
Turkmenistan
Tuvalu
Uganda
Ukraine
Vanuatu
Wallis and Futuna Islands
Yemen
Zambia
Zimbabwe
Beaucoup de pays africains sont restreints par PayPal. Si vous résidez dans un de ces pays, vous ne pouvez donc pas recevoir des paiements, mais il existe une technique pour recevoir des paiements PayPal dans un pays non éligible. Vous connaissez cette technique ? Vous pouvez également vous tourner vers une alternative à PayPal.
Voir aussi : Comment supprimer un compte PayPal
Conclusion
Maintenant, vous savez quel pays est éligible PayPal et quel compte peut envoyer et/ou recevoir des paiements sur PayPal. Les comptes de certains pays peuvent également transférer le solde PayPal automatiquement vers un compte bancaire américain comme le Malawi, l'Egypte et l'Algérie.